MOTORCYCLE CLUBS
As a new update in GTAV they are taking the biking to the next level as we know we only used to purchase motorcycles or steal them and store it in our garages. Thanks to this brand new update there will be new options such as joining bike gangs any time. It will be in teams of 8 and each group will have leaders that will lead their bike gangs. And recruit and move up gang members in the hierarchy of the club. Such as presidents of the gangs have the power to promote members to Vice president, road captain, sergeant at arms, and the enforcer. Each role has its own abilities. For instance dropping body armor to calling hit squads to setting riding formations and starting challenges among the other gangs. Which is a neat prospect to have fun even more in the GTAV world.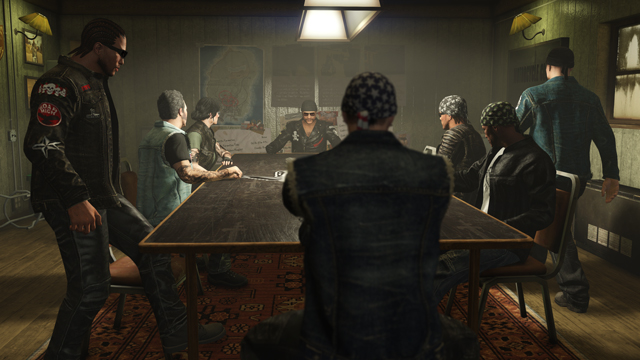 CLUBHOUSES
Your gang house AKA clubhouse is the center of operations. You are able to choose from the 12 available locations, and make your purchase via the new Maze Bank Foreclosures website. Thanks to this update each gang house comes complete with its own bar, and new and exciting activities like Darts and Arm Wrestling, various murals and the option to upgrade to your own in-house Custom Bike Shop. So more improved bikes better looking bikes and more is awaiting anyone and everyone to take the gaming to the next level.
Also the gang houses include a meeting room in which the president can use the " Contracts Wall to launch new Clubhouse Contracts – a range of new Freemode missions for you and your MC members to earn some tidy GTA$ and RP through a range of noble deeds " (from GTAV official website). Also gangs will work against each other to gain more dough at the end of the day.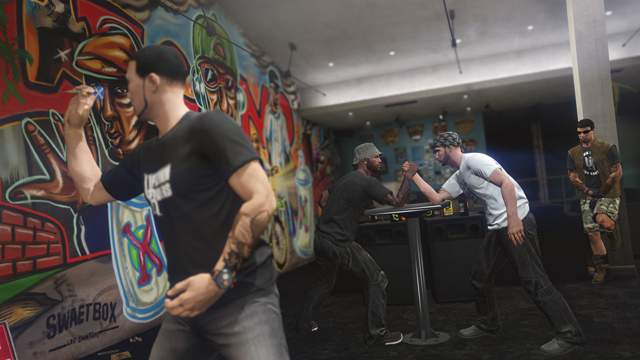 BUSINESSES
There is more to this update than anyone hoped for there will be a new online business opened for bike gangs where they could trade goods and make even more money. This will be a great way to make money from the missions that you make and invest in the bike community and make even more money. But be careful and spend your money efficiently or you will lose it all.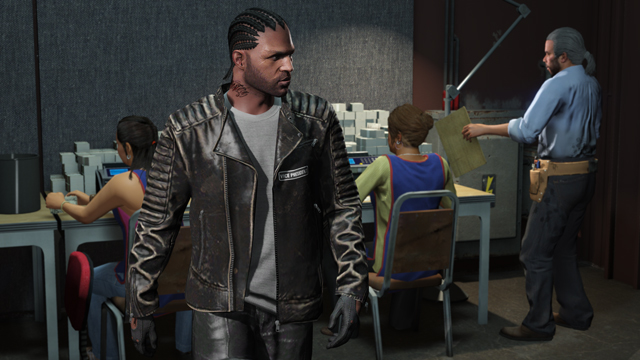 THIRTEEN NEW VEHICLES
There will be 13 more new vehicles added to the list. The list goes from sport bikes to choppers giving a new full set of bikes to customize and be unique in your own bike gang. Wouldn't u want to roll with your hommies with sick ass bikes. And play they see me rollin and they hatin. "From the sleek, neon-accentedNightblade and the charismatic, three-wheeled Chimera, to the classic, rusted lines of the Rat Bike, there are options for every kind of rider available at Southern San Andreas Super Autos and Legendary Motorsports. " (from GTAV official website)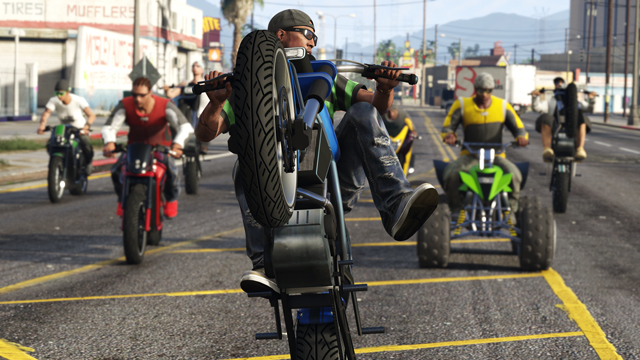 NEW WEAPONS & MELEE
With Bikers comes the ability to melee opponents from the seat of your bike and Ammu-Nation is stocking the new Battle Axe, Pool Cue and Pipe Wrench to help take down rivals quickly. Also available to knock opponents out of their seats with blistering power are the new automatic Sweeper Shotgun and Compact Grenade Launcher.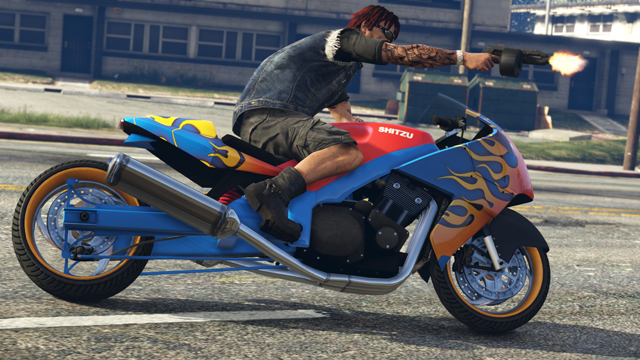 NEW CLOTHES & TATTOOS
"Whatever kind of gang you roll with, there's an extensive wardrobe of new styles to represent your affiliation including a wide selection of Jackets, Cuts, Helmets, and of course plenty of leathers and denim to choose from. Complement and trim your Bikers look with a selection of new Hairstyles and Tattoos. " to make u more unique amongst others.
There will be variety of emblems to choose from so your crew will be known more by their motorcycles and can spread the fear among other civilians and other gtav bike gangs.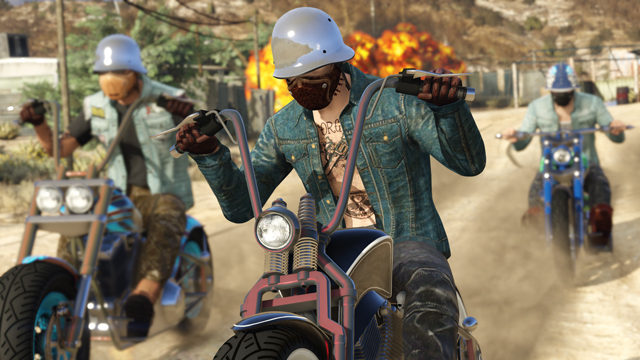 NEW ADVERSARY MODE: SLIPSTREAM
Since there are bike gangs now the GTAV community decided to add the new slipstream mode with each gang when they race. They can race as teams and kick the other gangs off their bikes while riding and claim the victory. Each victory comes with tons of RP and GTAV cash.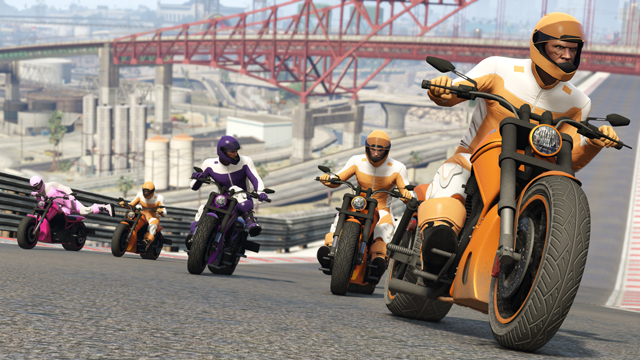 BIKERS BONUS WEEK
"Kicking off today and through to Monday, October 10th is a Bonus Week lined with unlockable rewards and discounts. Play GTA Online this week and unlock the crisp, white Western Logo Tee and Nagasaki Hoodie, free at any clothing store. And for collectors, get the black Western Logo Tee when you pick up the new Western Nightblade. Keep your MC armed and loaded with discounts on Body Armor and Ammo – and pack an extra punch with 25% off high-capacity Drum and Box Magazines. Or add to your MC's flair with discounts on Weapon Tints." (gtav website) Cool that they are giving away bonus stuff away for this weekend.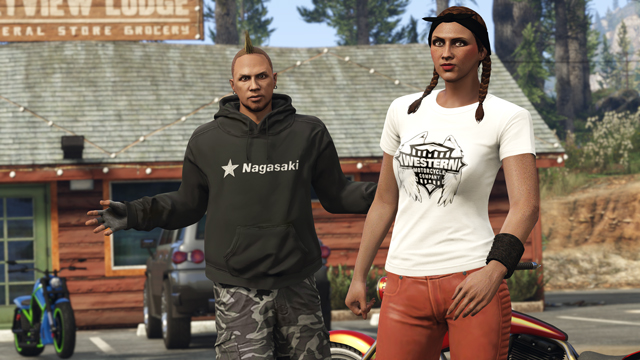 PREMIUM RACE: TRENCH I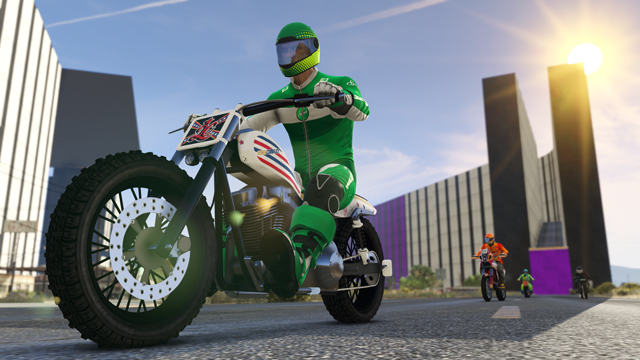 "Suitably set to Motorcycles, this week's Premium Race is "Trench I" – over two helter-skelter miles of tight competition through a ten-story tunnel in the Grand Senora Desert. With GTA$ payouts for the top three finishers and Triple RP for all racers, enter the fray at the yellow Premium Race Blip in Legion Square or join via the Quick Job App." (gtav official website) If you want to make sure that your gaming quality is to a high experience then investing in something like hughesnet plans, which allows you to loan out a satellite dish and the surrounding equipment for better download speeds and it is great for online gaming. After all, what's the point of playing a new game online if you can't see all the great new features through the millions of pixels on your screen? You want the best internet speed for gaming, after all. That way you can rally soak in these experiences GTAV has to offer.
* all of the information above is taken from rockstar games official GTAV website with peer editing or quotations.