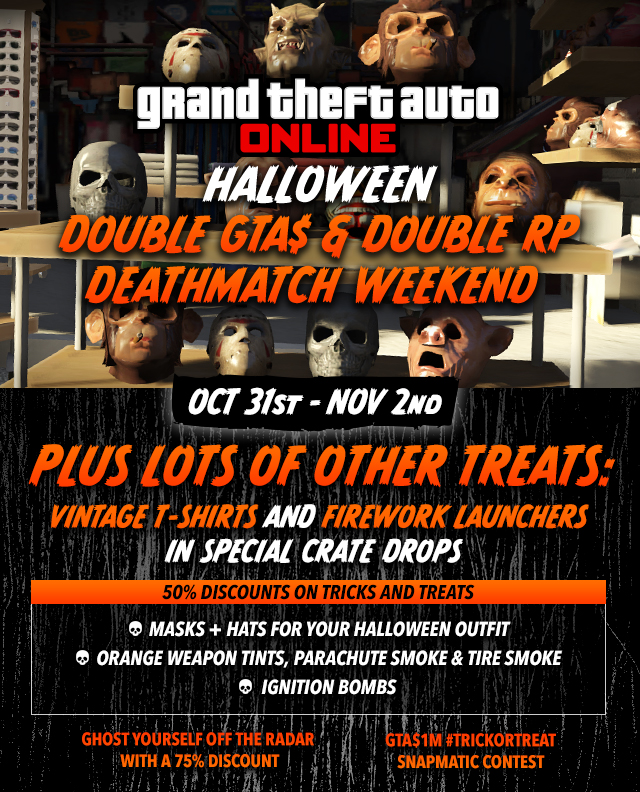 After the San Andreas Anniversary in GTA Online, Rockstar Games just added three more days of bonuses and more this Halloween weekend. Starts today October 31st until Sunday use it wisely.
As I heard all death-matches will reward Double RP and Double the GTA$ including player created Deathmatch Jobs. The Los Santos will also be Crate Dropping for free- mode which includes Firework Launchers, exclusive T-shirts, CASH and more. They are also doing a Trick Or Treat Snapmatic contest  so get into your costumes with 50% off for Masks and Hats, as well as 50% off orange tints and smoke trails.
TREATS INSIDE EVERY SPECIAL CRATE DROP
Keep watching the skies for the crate drops in the free- mode ! This weekend the rare GTA T-shirts will be given out in the Special Crate Drops, with different t- shirt available each day:
Friday – Flash FM

Saturday – Bobo

Sunday – Fever 105 FM
There will be Firework Launchers, Miniguns and an abundant cache of RP, GTA$ and ammo. WARNING You are not alone.
75% DISCOUNT OFF THE RADAR